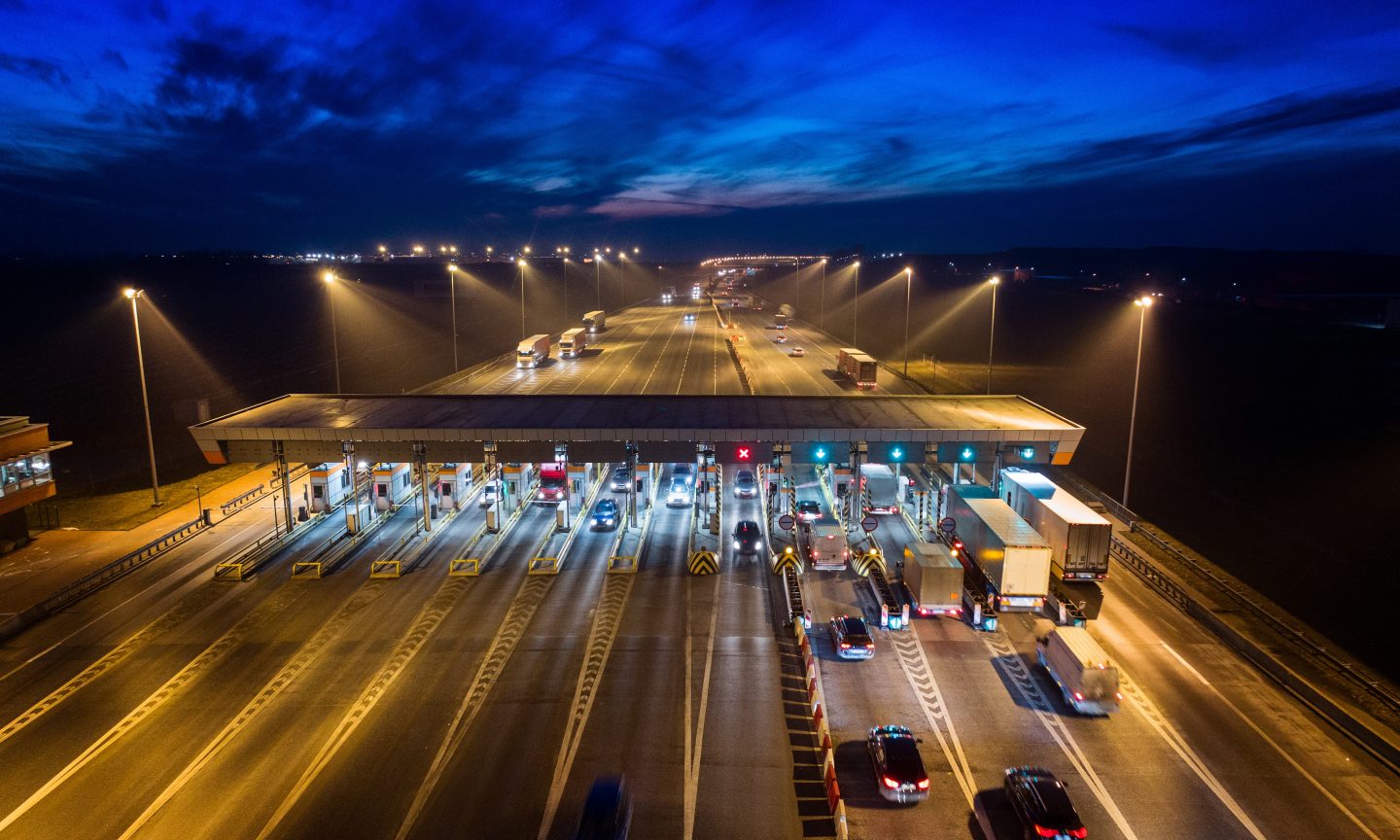 Paying tolls when renting a car can be frustrating and expensive. After rental car company fees, a single small toll can end up multiplying in cost. A rental car company once charged me for an entire week of a toll pass just for using one toll, so instead of paying $1.75 I paid $59.99.
How do tolls work with rental cars? Once you get to the rental car counter, you have two options for paying tolls: renting a toll pass from the rental company or paying tolls as they come along. However, with cash toll booths disappearing from many toll roads, paying as you go has gotten increasingly harder.
In this post, we will discuss a third option: using your own toll pass in your rental car. Doing so can help you avoid excessive rental car toll charges, but you'll need to plan ahead to set up the toll pass for your rental car. Here's an overview of some of the best toll passes for rental cars.
Toll passes to use in rental cars
1. Uni toll pass
For tolls almost anywhere on the East Coast, the Uni toll pass will be a top option. Although issued by the Central Florida Expressway Authority, Uni toll passes can be used seamlessly in 19 states — from Florida to Maine.
You can use a Uni toll transponder on toll roads accepting any of the following toll systems: E-ZPass, E-PASS, I-PASS, LeeWay, NC QuickPass, SunPass, PeachPass, QuickPass and RiverLink.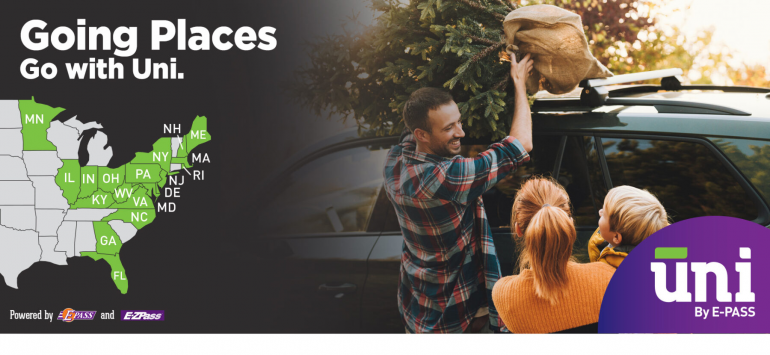 The windshield-mounted transponder can be moved easily between vehicles — making Uni a simple solution for both your own cars and rental cars. You can buy a Uni toll transponder on Amazon, and you can get it quickly with Prime shipping.
To make it even simpler, there are no monthly account fees or annual contracts. So if you don't have eligible tolls near your house, you can just keep your Uni toll pass in your luggage between trips without having to worry about the balance draining away.
2. EZ TAG
For trips through Texas, Kansas and Oklahoma, you'll want to investigate getting an EZ TAG. The primary option is to get a windshield transponder — which requires loading at least $20 of prepaid tolls onto your account.
EZ TAG transponders aren't designed for easy switching between vehicles. You'll have to deal with mounting the windshield transponder tag and removing it after your rental. Frustratingly, the chip inside the EZ TAG sticker gets damaged when being removed from the windshield. That effectively makes this a one-time-use toll pass.
If you're sticking to Texas, consider using the EZ TAG Express app instead. With the app, you'll need to pre-fund your account and add the rental car to your profile before you drive through a Texas toll. You'll have to pay the higher cash toll rate — but that's still sure to be cheaper than paying the toll through the rental car company.
3. E-ZPass
Like Uni, E-ZPass works in 19 states, primarily on the east coast. (And remember, Uni toll pass works at all E-ZPass tolls.) If you want to get a dedicated E-ZPass, you'll have to decide which state to sign up through.
If you live in one of the states that accept E-ZPass, look into whether your state's transponder can get you discounts on tolls. Often, you'll find that an E-ZPass transponder only gets discounted tolls within the state in which it's registered. Out-of-state transponders may get the normal cash rate. This is definitely something you'll want to know while traveling through or renting a car out of state.
One way to work around this is to consider signing up for an E-ZPass through a different state, such as the state you're traveling to or a state that has lower fees. For example, there are no fees to get a Massachusetts E-ZPass transponder, as well as no monthly fees as long as you opt to get online statements.
4. FasTrak
For toll roads, bridges and even some parking facilities in California, you'll want to get a FasTrak toll pass. You can order a FasTrak toll tag online or pick one up at participating Costco or Walgreens locations in California.
FasTrak makes it easy for you to temporarily assign your tag to a rental car. Just log into your account to add the license plate, start date and end date before going through the first toll.
5. ExpressToll
To pay for toll roads in Denver and throughout Colorado, sign up for an ExpressToll account. By opening an account with a $35 prepaid toll balance, ExpressToll will mail you a transponder that you can place in your rental car. Once you pick up your rental car, add the rental car's license plate to your account before driving on the first toll road. Just make sure to set an end date.
6. Freedom Pass
Alabama is one of the few east coast states where you can't use a Uni toll pass. With just four toll roads across the entire state, that's not a significant limitation. But if you want to quickly pay these tolls, sign up for a Freedom Pass — a prepaid card that you can hold up to your rental car windshield when you're passing through one of these tolls.
Do you have to pay tolls in a rental car?
One way or another, you'll have to pay when passing through a toll in a rental car. The cheapest way to do so is to use your own toll pass, such as those we've highlighted in this post. Paying at a toll booth or using the rental car's toll pass will generally be more expensive.
If you don't activate the rental car's toll pass or pay at a toll booth, the toll company will bill the vehicle owner. The rental car company will figure out who rented the car at that time and send you a bill — usually with hefty administrative fees. Failing to pay that bill could land you on the rental car company's banned list.
Final thoughts on using toll passes in rental cars
The easiest way to deal with tolls when renting a car is to avoid tolls entirely. Check a route mapping app like Google Maps to see if you can avoid tolls by taking a different route. Or use Toll Guru's toll calculator to route your journey and see where tolls are and how much they cost.
In locations with many toll roads, most rental cars will have a toll pass included in the vehicle. If you're using your own toll pass, make sure that the rental car toll pass isn't activated. That may mean flipping the "off" switch or closing the box that houses the transponder.
When using your own toll pass, you'll need to make sure to enroll the rental car's license plate in your toll tag account for the duration of the rental. Just as important: Make sure to remove the tag from your account once your rental is done. After all, you don't want future renters to be able to charge tolls to your account.
How to maximize your rewards
You want a travel credit card that prioritizes what's important to you. Here are our picks for the best travel credit cards of 2022, including those best for:
https://www.nerdwallet.com/article/travel/rental-car-toll-charges-passes