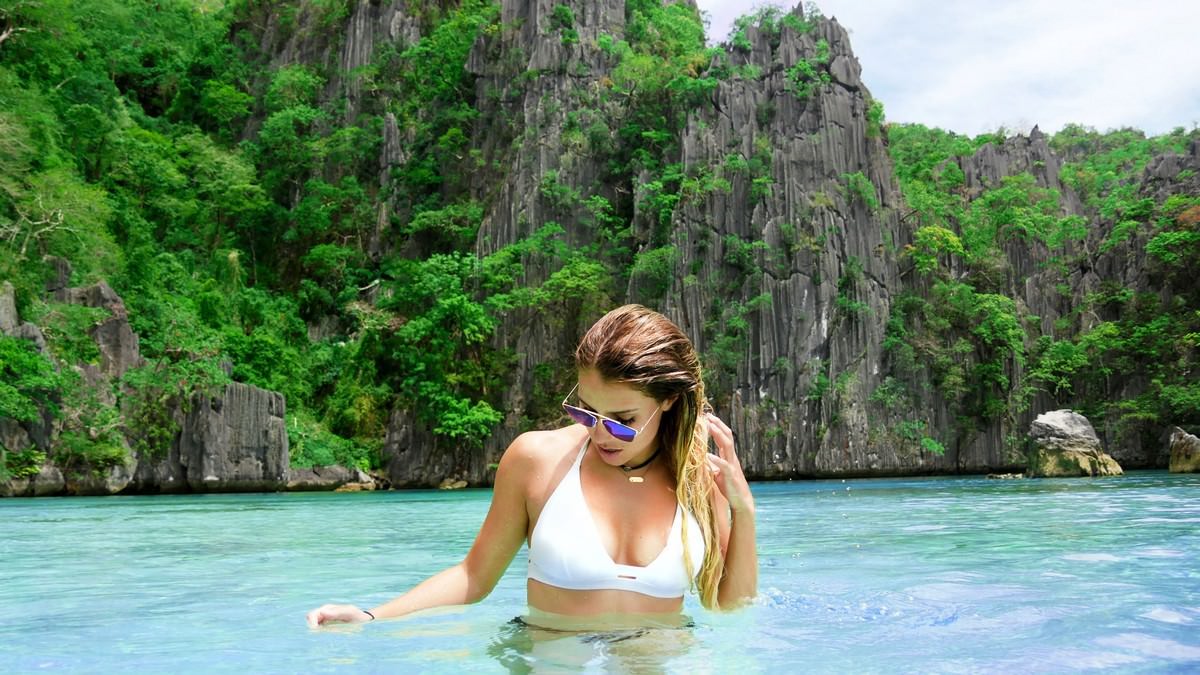 Presenting the list of top 10 best places to visit in the world. This list includes exotic islands, gigantic metropolises, and world-class historical sites to visit. Likewise some of these are very famous, some of them are places you may never have heard of.
The listed below are top 10 best places to visit from around the world in 2022. They're breathtaking, they're jaw dropping, they're top of the list of places you really must see before you die.
The 10 Best Places to Visit from around The World:
10. Palawan Island, Philippines
Palawan Island is the most beautiful island in Philippines and the largest in Palawan province. It's a slice of heaven, also voted as the most beautiful island in the world several time. The ultimate destination full of incredibly beautiful natural seascapes and landscapes. Teeming with exotic wildlife, quiet waterfalls and quaint fishing villages, it's one of the most bio-diverse islands in the Philippines.
What to do must here? According to the National Geographic Traveler magazine, Palawan is the best island destination in Asia region. If you ever came to Palawan, you must visit the Calauit Game Preserve and peaceful wildlife sanctuaries. And also got to El Nido and Coron Island, regarded as one of the best dive sites in the world.
9. Barcelona, Spain
Barcelona, Known around the world for its legendary football team. It is the capital of Catalonia and the second largest city in Spain. Barcelona is located on the northeast coast of the Iberian Peninsula, facing the Mediterranean Sea. It has a Mediterranean climate with mild, humid winters and warm, dry summers.
Barcelona has many attractions for tourists like Sagrada Familia by Antonio Gaudí, L'Aquarium de Barcelona, Poble Espanyol de Montjuïc otherwise known as the Spanish Village, La Pedrera – Casa Mila by Antonio Gaudí and many more.
See also; 10 most beautiful villages in Europe.
8. London, England
London is the capital city of England and the United Kingdom. Also, London ranked top amongst the best place to visit in the world by U.S. News Travel. There are so many interesting best places to visit in London. With eclectic neighborhoods and numerous landmarks, London requires several days to get to know.
Along London's bankside you will find a reconstruction of Shakespeare's Globe Theatre, resident storytellers show visitors every intricate element of this impressive replica building. With a London Pass you can visit all of these top London attractions, a fantastic sightseeing saving! See also; Top 10 Best Places to Visit in London.
See also; the top 10 places to visit in London.
7. Paris, France
Paris is the capital and largest city of France. It is situated on the river Seine, in northern France, at the heart of the Île-de-France region. Paris has the typical Western European oceanic climate which is affected by the North Atlantic Current. Over a year, Paris' climate can be described as mild and moderately wet.
Paris has many attractive sites like Boat Tour of the Seine River, Père Lachaise Cemetery, Sacre Coeur and Montmartre, Arc de Triomphe and the Champs-Elysées, The Sorbonne and the Latin Quarter, Musée d'Orsay, Eiffel Tower and many more.
See also; 10 Magical Fairytale-Like Destinations to Visit in Your Lifetime.
6. The island of Maui, USA
The island of Maui is the second-largest of the Hawaiian Islands. Maui's diverse landscapes are the result of a unique combination of geology, topography, and climate. The climate of the Hawaiian Islands is characterized by a two-season year, mild and uniform temperatures everywhere.
There are many attraction in Maui to visit like Paia Town, Ho'okipa Beach Windsurfers, Puahokamoa Falls, Keanae Pennisula, Pua'a Ka'a State Park, Wai'anapanapa State Park, Hana Bay, Hana and Ohe'o Gulch are most famous 10 places. Getting the best Maui vacation rentals will ensure that you can get the best vacation experience.
See also; 10 Alluring Lakeside Cities of the World.
5. Plitvice Lakes National Park, Croatia
Plitvice is considered one of the top 10 best places to visit around the world. It also voted the most beautiful national parks in the world. Just like as Croatian president Kolinda Grabar-Kitarović, famous for glamour around the world.
The park is known for a chain of 16 terraced lakes, joined by waterfalls, that extend into a limestone canyon. This wonderful blend of oak forests, meadows and limestone rock formations are topped only by the incredibly vivid blue lakes, making it a magnet for tourists in Croatia.
4. Miami Beach, Florida
Miami Beach is a coastal resort city in Miami-Dade County, Florida, United States. Best sites to visit in Miami Beach like South Beach and Art Deco Tour. Also Ocean Drive – South Beach, Haulover Beach Park; North Beach, Lummus Park; South Beach, Lincoln Road Mall; The South Beach, Bass Museum of Art; South Beach, Holocaust Memorial; South Beach, Miami Children's Museum; Causeway, Jungle Island; Causeway and many others.
See also; Top 10 Most Romantic Places in the World.
3. Alberta, Canada
Arguably, Alberta is one of the Canada's most impressive scenery. The most scenic provinces in all of Canada is home to two of the oldest national parks in the world (Banff and Jasper National Parks). The awe-inspiring glaciers and turquoise lakes attracts millions of visitors each year to this province.
All in all, Alberta is incredible and such a beautiful destination to visit. It's one of the top 10 best places to visit in the world. In addition, it's one of the world's best places to visit, that your holiday plans need a trip to this amazing part of Canada.
See also; Top 10 best attraction in Canada.
2. U.S. Virgin Islands
The Virgin Islands of the United States are a group of islands in the Caribbean that are an insular area of the United States. The islands comes at second place in our list of top 10 best places to visit in the world. They are geographically part of the Virgin Islands archipelago and are located in the Leeward Islands of the Lesser Antilles.
The Islands enjoy a tropical wet-and-dry climate, affected by moderate trade winds. There are many best things to do in Virgin Islands; Like visit Virgin Islands National Park, Trunk Bay, Magens Bay, Estate Whim Plantation Museum, Caneel Bay and much more place.
See also; TOP 10 Spectacular Islands in The World.
1. Iguazu Falls, Argentina/Brazil border
One of the modern natural wonders of the world. Located on the border of the Argentine province of Misiones and the Brazilian state of Parana. This chain of mini waterfalls is one of the world's most awe-inspiring attractions.
See also; Top 10 greatest waterfalls in the world.
A visit is an awe-inspiring visceral experience, and the power and noise of the cascades; A chain of hundreds of waterfalls nearly 3 km in extension – is something you won't forget. The falls lie split between Brazil and Argentina in a large expanse of national park, much of it rain-forest teeming with unique flora and fauna. It's on top among the top 10 best places to visit in the world.