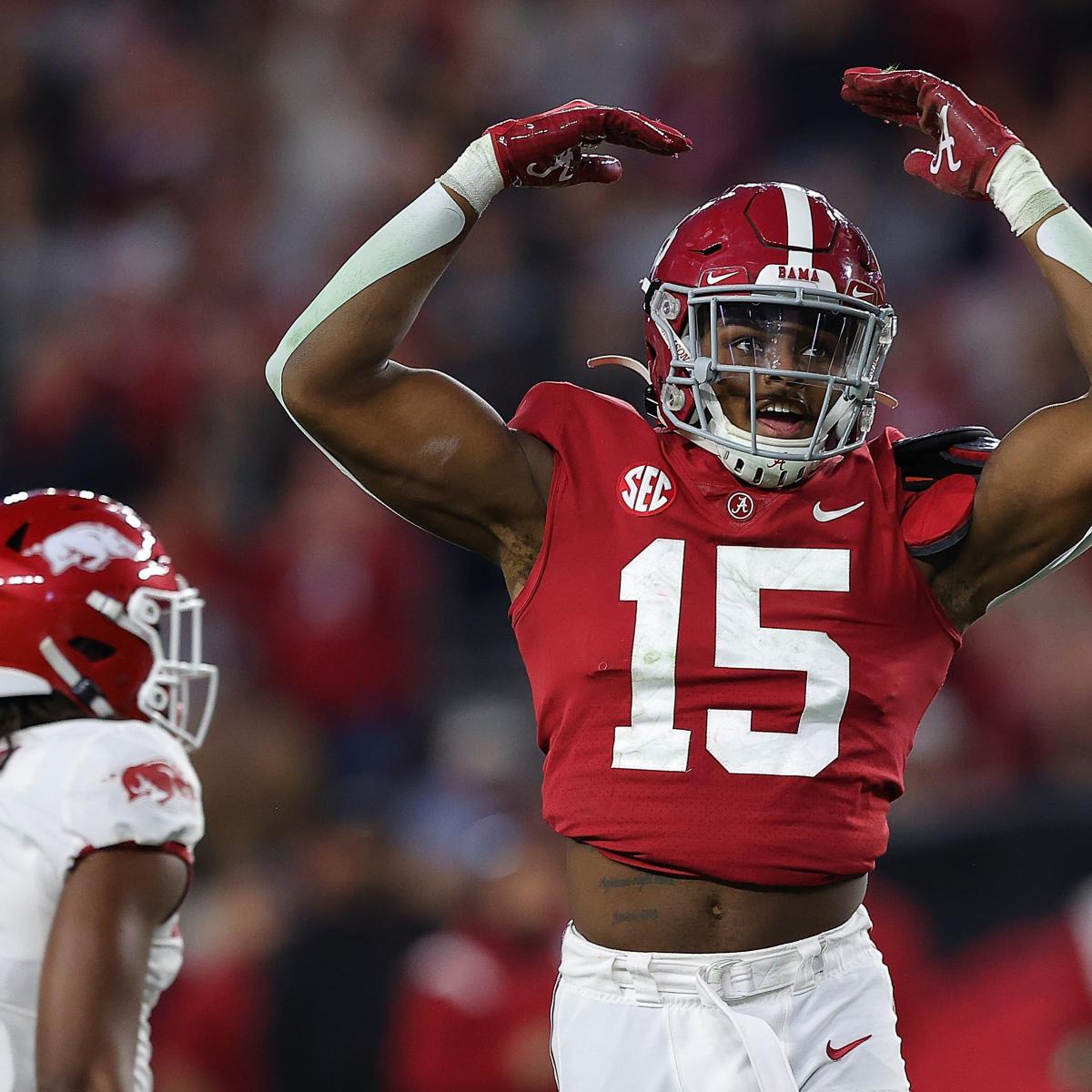 0 of 4
Kevin C. Cox/Getty Images

Both the beautiful and bittersweet part of college football is that your favorite players can't be around forever.

Whether it's an NFL-bound star who stayed for three seasons or a role player who seemed to have 12 years of eligibility, their departures usher in a new wave of prominent names.

Next season, for example, the CFP world will no longer focus on Jameson Williams, Aidan Hutchinson, Kenny Pickett or Kayvon Thibodeaux. In their places, though, you'll probably be hearing about Dallas Turner, Tyler Van Dyke, Devon Achane and others.

The following list is subjective but attempts to highlight players who aren't household names. Players such as Bryce Young and CJ Stroud have established names nationally, so they're not included.
1 of 4
Lynne Sladky/Associated Press

Tyler Van Dyke, Miami

Entering the 2021 season, most of the attention landed on D'Eriq King. However, a shoulder injury limited him to three games and opened the door for Tyler Van Dyke. He closed the campaign with six straight games of 300-plus yards and three touchdowns, leading Miami to a 5-1 record in those matchups.

         

Cameron Rising, Utah

Similar to Van Dyke, Cameron Rising shifted into the lineup in late September and shined. He started the last 11 games and posted a 9-2 record with a Pac-12 championship. Rising threw for 2,493 yards and 20 touchdowns to only five interceptions, adding 499 yards and six scores on the ground. Also, he has a mustache—and former Washington State QB Gardner Minshew showed the value of that.

         

Clayton Tune, Houston

During the last two years, Cincinnati star Desmond Ridder became the most recognizable Group of Five signal-caller. That honor may shift to AAC counterpart Clayton Tune, who passed for 3,546 yards and 30 scores while guiding Houston to a 12-2 record in 2021.
2 of 4
Rogelio V. Solis/Associated Press

Devon Achane, Texas A&M

Last season, Devon Achane tallied 10.8 carries per game to Isaiah Spiller's 14.9. Spiller, though, is off to the NFL. Given that Achane collected 910 yards and nine touchdowns as a rotational back—also averaging a sensational seven yards per tote—the anticipation for his debut as the featured runner is totally justified.

         

Jahmyr Gibbs, Alabama

The first of three transfers, Jahmyr Gibbs racked up 60 receptions and 2,768 all-purpose yards in two years at Georgia Tech. His versatility will further stress SEC defenses that already have to deal with everything else Alabama has to offer, including Bryce Young—you know, the reigning Heisman Trophy winner.

         

Zach Evans, Ole Miss

After a wild recruiting story, Zach Evans landed at TCU and performed well. In 15 appearances, he rushed for 1,063 yards at a terrific 7.3 per carry, caught 18 passes for 206 yards and totaled 10 scores. Evans, though, has shifted to Ole Miss. Not only is the move to a Lane Kiffin offense reason for excitement, but the Rebels also lost all three key running backs to the NFL or transfer. This could be Evans' show immediately.

         

Braelon Allen, Wisconsin

Had the Badgers not stumbled to a 1-3 start, Braelon Allen would've had more attention as the latest in a long line of prolific Wisconsin running backs. Well, friends, he's the latest in a long line of prolific Wisconsin running backs. Allen, who reclassified from the 2022 recruiting cycle to 2021, scampered for 1,268 yards and 12 touchdowns as a 17-year-old true freshman.
3 of 4
Icon Sportswire/Getty Images

Jaxon Smith-Njigba, Ohio State

After he shredded Utah for 347 yards and three touchdowns in the Rose Bowl, Jaxon Smith-Njigba certainly isn't an unknown. He amassed 1,606 receiving yards, so he's already been a breakout player. But he shared the spotlight in 2021 with Chris Olave and Garrett Wilson, two NFL-bound wideouts. Smith-Njigba might just make a serious run at 2,000 yards in 2022.

        

Xavier Worthy, Texas

As disaster unfolded in Austin, most conversations focused on Steve Sarkisian's awful opening year. However, the Longhorns unleashed a rising star in Xavier Worthy. The freshman wideout reeled in 62 passes for 981 yards and 12 scores. Worthy was one of only 13 players to have three catches of 60-plus yards in 2021.

          

Gary Bryant Jr., USC

Oklahoma wideout Mario Williams followed Lincoln Riley to USC, which later picked up OU quarterback Caleb Williams. The prime beneficiary, though, may actually be Gary Bryant Jr. next season. The soon-to-be junior is coming off a year in which he managed 579 yards and seven touchdowns on a very inconsistent offense.

         

Kayshon Boutte, LSU

As a freshman in 2020, Kayshon Boutte made 45 catches for 735 yards and five touchdowns. Last year, he gathered 38 receptions, 508 yards and nine scores in just six appearances until an ankle injury ended his season. Boutte has All-American upside in 2022.
4 of 4
Steph Chambers/Getty Images

Zion Tupuola-Fetui, Washington

First of all, you see that picture, right? Second, though, Zion Tupuola-Fetui is eyeing a resurgent year. The edge-rusher accumulated seven sacks in four 2020 games, but a torn left Achilles shortened his 2021 campaign to five outings. As long as he's healthy, Tupuola-Fetui could have an exceptional season.

         

Dallas Turner, Alabama

Similar to Smith-Njigba at OSU, Dallas Turner has already had a superb year. In his true freshman year, he notched 8.5 sacks—all of which he recorded in November or later. Will Anderson Jr. will continue to draw the headlines, but Turner will literally have two additional months to pile up stats in 2022.

          

Bryan Bresee, Clemson

Rarely does an interior lineman put up noteworthy stats, but Bryan Bresee could be an exception to the rule. He registered 12 stops—including three for loss and 1.5 sacks—and an interception before an ACL tear ended his 2021 season in the fourth game of the year. Bresee is likely to be mentioned as a top 2023 NFL draft prospect.

            

Nolan Smith, Georgia

Perhaps it's fitting the reigning champs cap the list. Nolan Smith took a back seat to Nakobe Dean and Jordan Davis, but they're both headed to the NFL. Smith, the No. 1 overall player in the 2019 class, recorded 56 tackles with 10 for loss and 3.5 sacks, forced three fumbles and tallied two takeaways in 2021. He absolutely stuffs the box score and should be recognized as a pillar of UGA's defense.

          

All recruiting information via 247Sports. Stats from NCAA.com, cfbstats.com or B/R research. Follow Bleacher Report CFB Writer David Kenyon on Twitter @Kenyon19_BR.

https://bleacherreport.com/articles/2953423-top-15-cfb-players-youll-fall-in-love-with-in-2022