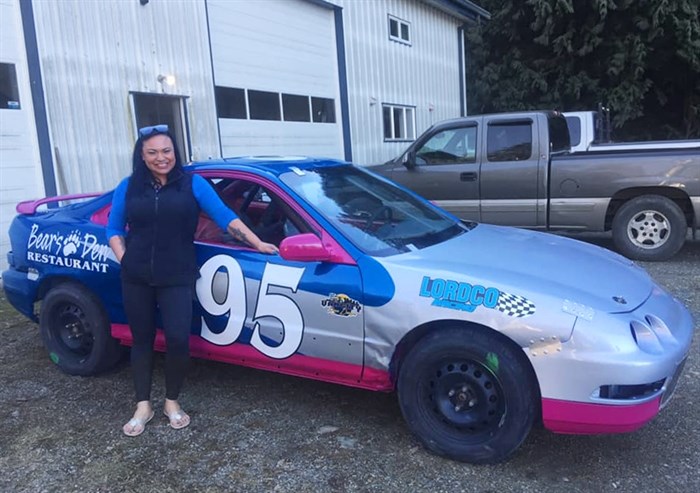 February 19, 2022 – 7:00 AM

A Penticton woman who feeds the homeless had no idea that her beaten-up race car would be getting a fresh paint job and sponsorship.

Shayla Doble, who spends a few nights every week giving warm clothes and food to the needy in Penticton, has been involved at the speedways in Penticton and Agassiz for several years, and finally decided to buy her own used race car in 2020 – a $1,200 Honda Integra that was a "dirt car" in its previous life.

Over the years, her race car had been painted and covered with stickers several times over. She stores it at a garage in Chilliwack and was prepared to go strip it down to the bone earlier in February.

But when Doble arrived last week prepared for a long day of labour, it had already been stripped down. It also had a brand new paint job. And there were decals of the sponsors she didn't even realize she had.

"I feel like a real race car driver now," she said. "It really just warms my heart to see that all of this has happened."

Her car was given the makeover by Elliot Klugh, the owner and operator of Vancity Race Designs. Although he had the skills and creativity to give the car what it needs, his business is only a few years old and he couldn't afford to fix up her car at much of a loss. So he reached out to his local Lordco Auto Parts, as well as a few friends.

READ MORE: How gearheads once convinced Kamloops to let them drag race on a city street

The team at Lordco were warm to the idea of sponsoring Doble's car and asked Klugh to submit a proposal in writing.

So he sent Lordco a very colourfully-written proposal.

"She is not the best racer, she is an amazing person," reads the proposal.

"She collects socks for the homeless and can be found every other night during the winter tracking down homeless people to give them a hot meal…. She is the most wonderful member and it was very easy to find volunteers to help me re-paint the absolutely ugliest car you could imagine lol… I am not kidding it is soooo ugly lol."

And then the local Lordco agreed to provide around $1,000 worth of supplies. That's one of Doble's new sponsors.

"And Lordco didn't cheap out on supplies," Klugh said. "They actually gave us all the best stuff."

Klugh has several reasons for wanting to help Doble – he admires her for being a single mother of Indigenous descent who volunteers with the homeless and got into racing later in life than many other drivers.

"She's really a hero to me," Klugh said. "She just started last year, so she might not be the best racer out there but she is one heck of a human being."

He wanted to remove the barriers of entry for somebody who – having started in her late 30s – doesn't have a winning and competitive record to easily attract sponsors.

"I told Lordco, 'I know you sponsor some great racers, but she's a better person than all of them.'"

He thinks about the impact she has on the homeless people who she encounters on a bitterly cold night.

"Imagine Shayla coming around the corner with a hot soup and a sandwich and some socks, asks 'how ya doing.'"

READ MORE: Community passion key ingredient for surviving speedways in Penticton, Merritt

Doble's race car is now looking like it's right out of the 1980s, Klugh said.

"You don't see pink around the windows on most race cars these days – I get that artistic ability 100% from my dad," he said.

His dad, Bill Klugh Sr., was also a professional race car driver.

"He passed away when I was just 20. Now (in my 40s) those artists skills are just coming back around, that my dad left me in a way."

When Doble arrived at the shop last week, he said, "she was genuinely surprised, somehow nobody ruined it."

It was an emotional reveal.

"Even us badass racer guys, even we had tears in our eye," Klugh said. 

Aside from Lordco, the other two sponsors on Doble's race car are the Bear's Den Restaurant in Penticton and Klugh's Vancity Race Designs. Traci Woodske from Team 3000 Realty promised financial backing, but ultimately it was not needed after Lordco came through. Klugh's friend Murray Jones, whose garage the work was done inside, was also an essential part of the project.
---

To contact a reporter for this story, email Dan Walton or call 250-488-3065 or email the editor. You can also submit photos, videos or news tips to the newsroom and be entered to win a monthly prize draw.

We welcome your comments and opinions on our stories but play nice. We won't censor or delete comments unless they contain off-topic statements or links, unnecessary vulgarity, false facts, spam or obviously fake profiles. If you have any concerns about what you see in comments, email the editor in the link above. 


News from © iNFOnews, 2022


https://infotel.ca/newsitem/ugliest-race-car-gets-facelift-for-penticton-mom-who-helps-feed-the-homeless/it89039